Set & Sekt
Fashion-conscious Basel residents have been buying their clothes from Corinne Grüter at "SET&SEKT" since 2007.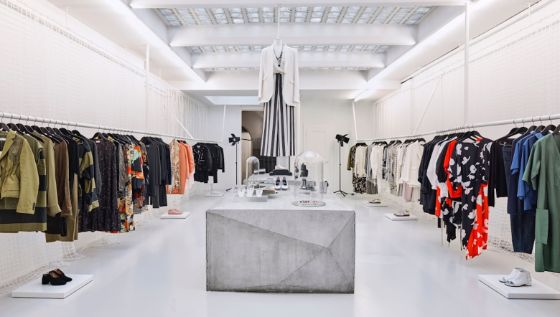 From fashion school straight into self-employment
Corinne Grüter has been running the "SET&SEKT" concept store on Rümelinsplatz in Basel for 15 years. When she signed the lease for the store with two floors, she had just completed her diploma in fashion design at the Basel School of Art and Design. Nevertheless, it was already clear to Corinne that from now on she would focus entirely on buying and selling finished garments instead of designing fashion herself. She had cherished the dream of owning her own store while at school, and is now living this today with obvious enthusiasm.
Professional, stylish and personable
The sales team led by Grüter knows its stuff, you notice that immediately. The employees advise customers with remarkable restraint and pleasant professionalism. An eye for detail and the ability to instantly identify a person's individual preferences are the basis for the consulting culture that is usual here. There is no aggressive selling, but suitable recommendations are made on request – style issues are discussed openly and as equals. Whether it's a business outfit, high-quality shoes, jewelry or designer items – you will find unusual designs from small and major producers from Switzerland, Europe and Asia in the minimalist style rooms at "SET&SEKT". It's definitely worth a visit.