Chat Noir
The green-eyed black cat attentively watches the passers-by strolling through the Marktgasse. Enter its light-filled home and discover gift ideas, home accessories, games, art and much more.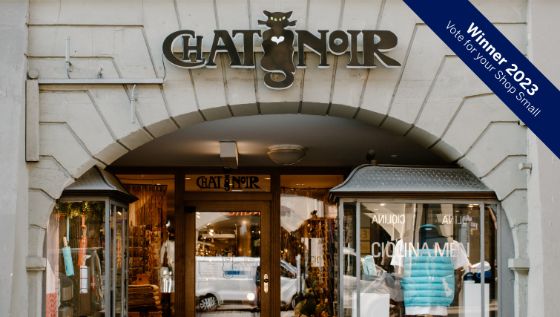 Two generations
"Chat Noir" was born more than 40 years ago as a small store with a stand on the "Bäremärit" market. The founders Andreas Jordi and Martin Schnöller started selling unique posters, special postcards and art prints with custom frames. They didn't have to wait long for success. Soon "Chat Noir" moved to a larger location on Marktgasse. The assortment also grew to include small furniture, gift items and accessories for a cozy home. With Andreas Jordi and his wife Guri having run "Chat Noir" together for many years, they finally handed over the business to their children Kim and Björn. And the black cat has also had a kitten: "Le Petit Chat Noir" has been offering everything children want since 2019.
Artful, practical and whimsical
"Chat Noir" is one of those stores where you are not looking for anything but find everything. Discover the artistic products in its varied range: For example, do you need an original gift? Then the Bob Ross mug is perfect – as soon as you pour a hot drink, a work of art appears as if by magic. Put together an individual bike kit, browse through special books or have a picture frame made to measure. The kitchen utensils are also practical and unique with solid cutlery, sustainable drinking bottles or "Egguins", a cute egg holder. Many of these products can also be found in the online store.
Shop Small of the Year
"Chat Noir" has been selected as the Shop Small of the Year in 2022.