"Cooking never gets boring"
He is just 28 years old, newly married and highly talented: Michael Schuler at "Alex Lake" in Thalwil.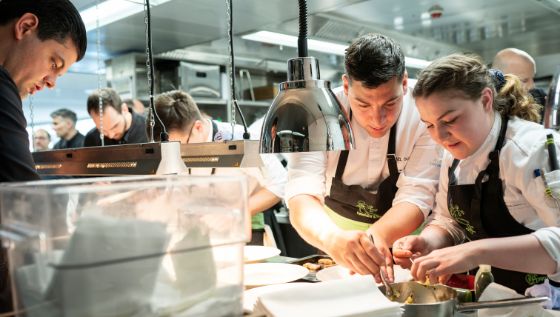 TWO DAYS TO THE WEDDING. At the time of our interview, Michael Schuler is in the middle of wedding preparations. Two days later, he and his girlfriend Leila are getting married. Nevertheless, the 28-year-old is surprisingly relaxed and explains why he already knew that he wanted to become a chef at the age of twelve. Today Schuler, who grew up in Sulz am Neckar, between Stuttgart and Switzerland, is one of the great talents on the Swiss restaurant scene. As head chef of "Alex Lake" in Thalwil (The Living Circle Group), he solves complex tasks just as confidently as he casually juggles getting married and interviewed.
EVERYTHING FROM ONE KITCHEN. When asked what motivates him to get up every morning, Schuler says, "cooking is not just a job for me, I like doing it so much that getting up is never difficult." At the "Alex", everything is sent from one kitchen: breakfast, à la carte, gourmet restaurant, and room service. On a beautiful summer evening, 14 guests may be sitting in the open-air area of the "Aqua" restaurant with 15 GaultMillau points, another 100 may be seated on the large "Alex" terrace during the course of the evening, and in between, a burger may have to be prepared for room service. "As a result, it never gets boring," says Michael Schuler with total composure, and immediately explains that variety is one of the best aspects of his job: "Every day is different, every fish is a bit unique, and there is so much to discover that cooking always remains fascinating."
FROM ASIA TO FRANCE. In his dishes, Schuler combines the flavors of Asia – "I like the acidity, the spiciness, the freshness" – with the rich, classic sauces from French cuisine. "When you combine these two strong opposites, exciting new possibilities emerge," thinks the young chef. At one point, for example, he serves Saint Pierre with red curry and kohlrabi, while a Breton oyster gets a new twist with a bold Thai salsa. The Gambero Rosso, on the other hand, is embellished with sesame seeds, wakame seaweed, yuzu, lime vinaigrette, miso mayo and dashi broth – the result is diverse, stimulating and flavorful cuisine. "Food cultures are so different all over the world – exploring that is incredibly exciting," says Schuler, describing his culinary spirit of discovery.
"MOST FUN." Even as a twelve-year-old, he knew he wanted to be a chef, says Michael Schuler. "I liked helping my mother and grandmother in the kitchen, that was always the most fun." Nevertheless, the enthusiasm about his career choice was not great at home at first – long working hours and mediocre pay were put forward as arguments against a cooking apprenticeship. "For my mother's sake, I then did other internships, but I stayed in the kitchen in the end," says Schuler.
AN EGALITARIAN BOSS. After five years working alongside Stefan Heilemann (18 points, two stars at Restaurant Widder, Zurich), most recently as sous chef, Michael Schuler is now responsible for a big kitchen himself for the first time – fourteen chefs and four dishwashers work under his leadership. "A friendly atmosphere at work is important to me. My people and I also talk about private things and we spend our free time together. Working with Stefan, I could see that you can get quite a long way with this style. And when you spend so much time together at work, the mood should be correspondingly good," says Schuler. Some things he still has to figure out, "but talking to people on equal terms and not talking down to them is the way to go for me," says the 28-year-old chef.