David Heimer - Passionate craftsman with vision
Chef David Heimer and his team at Zurich's "Josef" restaurant bring Nordic cuisine to District 4.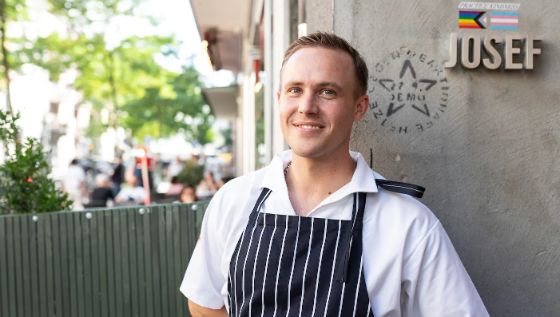 London, New York, Stockholm, Copenhagen – David Heimer could probably work in any culinary metropolis in the world. But the young Swede chose Zurich to perfect his vision of impeccable artisanal and refined Nordic cuisine. Heimer has been cooking as head chef at the "Josef" restaurant not far from Langstrasse since 2020 and is no stranger here. He stood behind the stove here back in 2011, then still as a 20-year-old young chef under head chef Tobias Emmenegger. He subsequently signed on for two years with his personal idol, cult chef Magnus Nilsson at "Fäviken", where he says he discovered his Swedish soul as a chef.
Adopted home Zurich
But the longing for Switzerland was too great: After two years at home, Heimer returned to Zurich after an extensive honeymoon in North America and took over the kitchen of the new "Wermut" restaurant in the Riffraff cinema on behalf of restaurateur Kaspar Fenkart and "Gamper" boss Marius Frehner. There he straight away showed what he had picked up during his years with Nilsson – the joy of reduction at the highest technical level. Just over a year later, surprisingly for many, he moved back to the "Josef" team, where his personal Swiss adventure had begun in 2011. Back at his old place of work on Josefstrasse, as head chef now, he is responsible for indulging the "Josef" guests with delicacies and inspiring them with new creations.
Rediscovering his own identity
What began in Sweden's far north is now being implemented even more consistently by Heimer at "Josef": The creative elaboration of his own culinary signature relies on fermentation, smoking and the sophisticated interplay of strong flavors. Under Heimer's instructions, sour, bitter and salty ingredients are combined anew every evening in the small "Josef" kitchen to create a unique taste experience. Much of what you read on the menu here sounds unusual, definitely piques your curiosity and never disappoints.
Teamwork around the fire
At "Josef", Heimer works closely with his sous chef Lukas Zehnder. Zehnder is more than Heimer's right-hand man in this regard; the two speak the same culinary language and push each other as partners in the kitchen. An open fire, roasting on the grill and smoke flavors are as elementary here as the aforementioned acidity of fermented vegetables. Currently, for example, a flambéed sturgeon from Switzerland with citrus risotto and smoked beurre blanc is on the menu. In addition to fish and shellfish, game is also part of Heimer's signature. As an avid hunter and fisherman, he learned to appreciate the special taste of wild animals as a young boy. Whether deer, roe deer or guinea fowl – wild delicacies from the forest and fields can be found almost all year round on the constantly changing menu at "Josef".
The value of good work
With regard to the often-discussed cost accounting in the catering industry, Heimer repeatedly takes a clear stance: "To be able to pay producers and employees fairly, we would actually have to increase our prices by 20%," he says, convinced that this is the only way to operate in a truly sustainable manner and to rely fully on regional and organically grown food. As high-wage countries, rich countries like Sweden and Switzerland are in a particularly delicate situation in this respect. Heimer points out the current acute shortage of skilled workers, the cause of which he sees in the poor working conditions in the hospitality industry. This uncomfortable truth is being addressed by more and more young restaurateurs: The goal is a new, more honest pricing policy. What some diners at Zurich's more ambitious trendy restaurants, such as the "Josef" or "Gamper", perceive as "too expensive" are, on balance, real prices that make the truly sustainable purchasing of goods and fair working conditions possible in the first place.
Focused, freely and calmly
Heimer assimilated the value of honest work very early on: Even as a child, David helped out on his parents' farm in central Sweden, earning his pocket money by gardening. At the age of ten, he stood in his uncle's hotel kitchen for the first time. As a teenager, he worked as a temp in bars and restaurants during school vacations. These experiences shaped his understanding of work as a rewarding and satisfying activity and played a significant role in determining his path. Heimer is a doer who constantly searches for new directions with bags of energy and enthusiasm and then follows them consistently. For the moment though, he seems to have arrived. Focused, freely and calmly, he inspires his guests every evening at "Josef" and is therefore one of our GaultMillau talents for 2022.