Zizi Hattab - Zizi Hattab's crazy career
She is the most amazing newcomer onto the restaurant scene: Zineb "Zizi" Hattab and her Zurich vegan restaurant "Kle".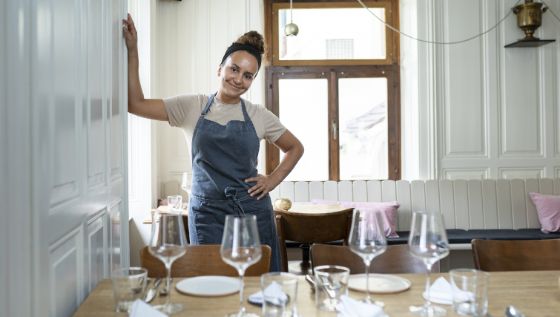 A NEWCOMER WITH A DIFFERENT BACKGROUND.
Zineb "Zizi" Hattab is probably the most prominent and interesting newcomer onto Zurich's culinary world. The energetic young restaurateur has made a name for herself with her vegan restaurant "Kle", which she opened in the beginning of 2020, and caused quite a stir on the scene. The 30-year-old chef can boast a GaultMillau rating of 14 points, and a career unlike any other. Hattab's family immigrated to Spain from Morocco in the 80s; Zizi grew up in Barcelona, studied mechanical engineering and finally became a software engineer.
SOFTWARE IN LIECHTENSTEIN.
Soon after completing her bachelor's degree, the young woman emigrated to Switzerland along with her husband, who is also an engineer. The couple settled in Oberriet in the canton of St. Gallen and worked in Lichtenstein, where Zineb Hattab programmed software for interfaces used, for example, in factories. "At some point I asked myself if that was what I wanted to do for the rest of my life," says Zizi. Her answer: "That would have been too easy."
CAMINADA, BOTTURA, ADURIZ.
The young woman with a big hunger for new challenges started cooking, read cook books and invited guests to enjoy the fruits of her labor at her home. It didn't take long for the spark to catch. Zizi wanted to learn more about the both everyday and at the same time fascinating art of cooking. In 2013 she sent applications to top chefs in Europe and worked as a stagiaire for Andreas Caminada in Fürstenau, Massimo Bottura in Modena, for the Roca brothers in Girona or Josean Alijaund in Bilbao, thus striking out on a new career.
A JOB THAT IS ALSO A PASSION.
"The beginning was unbelievably hard, sometimes it was a nightmare to work in big, top-tier kitchens," Zizi Hattab candidly admits. She didn't understand the codes or processes in the kitchen, was at times forced to live in tiny apartments with half a dozen other stagiaires, who were much younger than she was. Even though cooking at such a high level was far from being a love at first sight, she did develop a passion for it: "This is a job you can only do if you have the passion for it, which makes it very different from other fields. I couldn't possibly sit for 18 hours and programme software, but I have no problem standing in the kitchen for 18 hours at a time," says Zizi.
FROM FÜRSTENAU TO NEW YORK.
Eventually Zineb Hattab found her way back to Andreas Caminada at the Schloss Schauenstein restaurant, where she worked for a while in the patisserie and participated in the creation of new dishes before moving to New York with her husband in 2017 to take an important position in Cosme under Mexican star-chef Enrique Olvera and the talented young chef Daniela Soto-Innes. "I ran the kitchen to free up Daniela to take care of other things," Zizi explains. "Cosme", located in the Flatiron district of the Big Apple, is a buzzing restaurant, one of the "World's 50 Best Restaurants" and, for the newcomer to the world of high-end food service, a sort of "master's degree in cooking", as she describes it. "We had 300 diners every day, but sometimes, an employee would simply disappear, or the dishwasher would show up to work drunk or the kitchen would suddenly be ankle-deep in water right before service was supposed to start," Zizi recounts.
FROM NEW YORK TO ZURICH.
Zineb Hattab passed the test with flying colors, but she always knew that what she really wanted was to open and run her own restaurant. What this restaurant would be like was unclear for quite some time, but what Zizi was absolutely sure about from a pretty early stage was that she would be opening this restaurant in Switzerland. "I am a trusting person, and I don't like it when people abuse this trust, so the Swiss mentality seemed to me like a perfect fit," she says. This led her to start scouting out for locations in Zurich.
"VEGETABLES ARE THE FUTURE."
Zizi Hattab finally found a location for her restaurant in a 200-year-old building in the Wiedikon district of Zurich and decided to offer a strictly plant-based menu. "Vegetables are the future," proclaims the woman who herself has gone vegan a while ago, and whose dishes express her Moroccan roots, her time in the Mexican-inspired kitchen at "Cosme" and the produce of her adopted home of Switzerland in a unique and harmonious way: Wild broccoli is artfully matched with a mole sauce made from around 25 different ingredients – including dried, smoked chillies from Weggis. Or the Mexican peanut sauce macha, which is spread on a crunchy corn tostada and complemented with peas, snow peas, lime juice, nuts and edible flowers. Felchlin chocolate with 68 percent cocoa is whipped together with almond milk into a mousse and crowned with a dollop of soya Chantilly cream. "Cooking vegan means working with what you've got. And not to keep thinking about what you don't have," Zizi Hattab sums it up.
LOGIC AND PASSION.
This is the guiding principle of an extraordinary young woman who combines within her both the unconditional passion and dedication to the art of cooking as well as structured thinking of an engineer based on mathematical logic. To put it briefly: a rare, but extraordinary combination.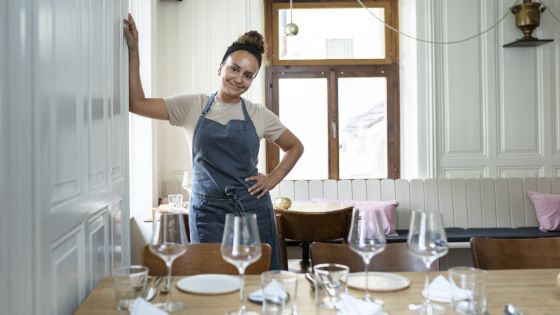 Zizi Hattab
14 points to start from GaultMillau for the 30-year-old cook with a CV that is probably only available once.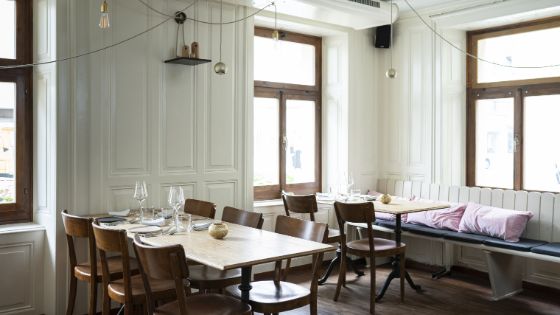 Restaurant Klee
With her vegan "Kle", which she opened at the beginning of 2020, the energetic lateral entrant caused a sensation on the scene.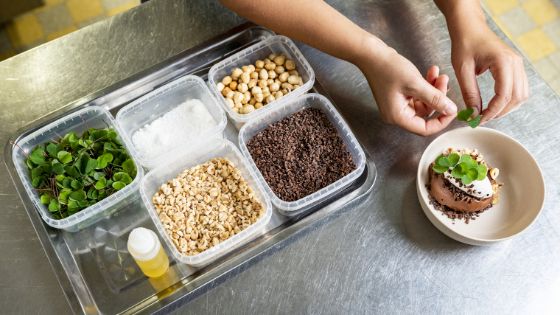 Logic and passion
It is her principle that combines the unconditional passion and dedication to the craft of cooking with the structured thinking of an engineer based on mathematical logic.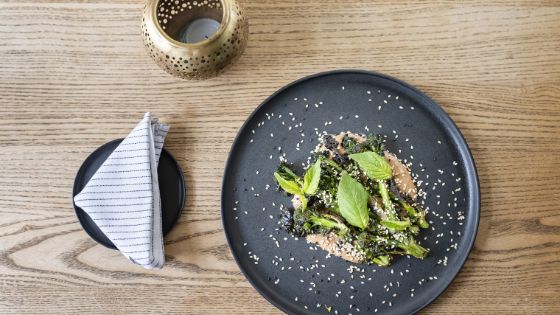 Vegetables is the future
Wild broccoli combines Zizi with a mole of around 25 ingredients - including dried, smoked chillies from Weggis.