Tarik Lange: Herb garden on the Hyatt roof
The "Park Hyatt" is suddenly a gourmet address! Tarik Lange picks up the 16th point with his power brigade.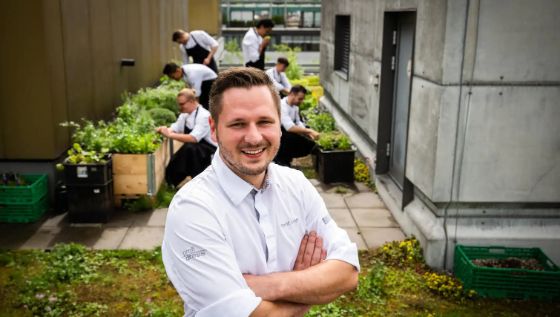 All good things come from above! The flat roof at the "Park Hyatt" remained unused for 17 years. Now 49 different herbs and flowers bloom here. The "gardeners"? Hyatt Executive Chef Tarik Lange built the rooftop garden, and Nick Berger, the chef with the "greenest fingers" on the team, takes care of it. Lange: "The roof garden is our passion. Each of us likes to go up, harvest exactly what we need for the next service. And: A few minutes of fresh air does us all good. Helps us unwind." First experiences: "Exotic" products such as lemongrass or Szechuan pepper are thriving wonderfully, but nothing has come of the wasabi experiment. "We have to keep practicing there," says the chef.
Chef Lange gets off to a flying start. You've always been able to eat well at the restaurant with the strange name "parkhuus", but it's never been exciting. That has changed: Tarik Lange from Dresden has been the Chef de Cuisine here for three years. He has rewritten the menu and, above all, put together a new team. "We are a tight-knit group and want to compete with the best hotels in Zurich. The five-star guest should enjoy a fine-dining experience with us, a little culinary adventure."
Duck leg salad & iced gazpacho. The adventure begins with sophisticatedly prepared amuse-bouche fireworks: Aargau buffalo mozzarella sphere with egg yolk mayo, duck leg salad, passion fruit ceviche of Hiramasa yellowtail kingfish, deep-fried goat cheese ravioli and, to top it all off, an iced green gazpacho with fennel sprouts, tarragon oil, yogurt and tapioca. Sensational! The amuse-bouche is a matter for the boss: Lange personally serves the small, fine appetizers, seeking contact with his guests. The most important man in the open kitchen with the powerful grill: sous chef Huy Schwarzenbach from Winterthur. His father is Swiss, his mother Vietnamese.
A man with a "past". Tarik Lange completed his apprenticeship in Dresden, but then quickly moved to Switzerland. He carefully selected his career stints: "Victoria Jungfrau" in Interlaken, Bad Bubendorf, "Seedamm Plaza" in Pfäffikon SZ. "I worked with Flavio Fermi in Bad Bubendorf for three years. It was a fantastic time. I'm still in contact with Adrian Bührer." There's no shortage of things to talk about: Lange and Bührer are top chefs and meanwhile committed family men.
Business lunch & fine dining. Anyone cooking at a "Park Hyatt" has to dance at two weddings. At lunchtime, the tables are booked for a quick business lunch, while fine dining is the order of the day in the evening. "Quick" can be taken literally: "Ideally, we're through with a three-course meal within an hour," says the chef, "the guests don't want to stay in the restaurant much longer at lunchtime." In the evening, the six-man brigade turns up the heat: pickled and smoked salmon from Lostallo in a ponzu marinade. Vegan minestrone with taccole. Balfegó tuna belly and back. Pike perch with razor clams, palm hearts, okra and yuzu. Pigeon breast royale as an intermediate course (!). B parts from Black Angus: flank steak (dry aged at Luma) and tongue (discreetly packaged in a dim sum). Sirloin and spare ribs of grass-fed lamb, spring deer entrecôte. We do the "bookkeeping" and agree: Talent Tarik is ready for the 16th point.