"My mother was never a good cook"
When he was ten years old, Thies Henkel took over the cooking at home. Now the 30-year-old is making a splash at the Lenkerhof.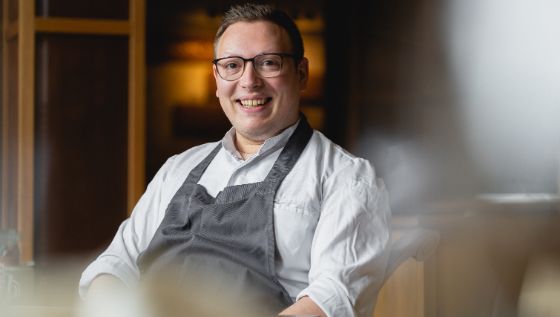 The first Tomato Sauce
It was clear to Thies Henkel from an early age that he would become a chef: "Even at the age of ten, I went into the kitchen myself to cook a tomato sauce," says the now 30-year-old. The precocious young chef was supported by his grandfather. As self-employed entrepreneurs, his parents had a lot to do with their own company, "and my mother was never a good cook," says Henkel.
Parental pride
No one takes offense at him saying that. Today the whole family laughs about this development, but when it came to choosing a career, things still got pretty serious: "My parents would have preferred me to go into the trading company. Today they are proud of me," says Henkel. As head chef at the Oh de Vie restaurant in the Lenkerhof Gourmet Spa Resort in Simmental, he "can't imagine anything other than being a chef," he tells us very credibly.
What is your unique signature?
Not even 16-hour days in a hotel business with a star-rated restaurant straight after his apprenticeship could do anything to dampen Thies Henkel's passion for cooking. Henkel learned about very different culinary schools under legendary German star chef Heinz Winkler and as sous chef to young colleague Tohru Nakamura in Munich (Chef of the Year 2020), among others. "Actually, I don't know what it means when people talk about chefs having their ꞌunique signatureꞌ. But one thing is certain: None of my dishes can be found in a restaurant anywhere else," says Henkel, addressing an issue that is a major challenge for many young chefs: An own distinctive style is expected, but developing it takes time.
Craftsmanship and instict
Thies Henkel seems to be able to rely on his instinct – and on a very solid basis of craftsmanship. In the kitchen, the young man appears extremely confident, perfectly organized and single-minded. "The basis for everything is the craft, but the key to success is to be well structured. I'm a bit chaotic at home, but I'm very effective in the kitchen," says the Rhinelander.
Love at a distance
And home is pretty far away too, by the way. While Thies Henkel is making a splash in the Bernese Oberland, his wife lives in Munich. "It was her, by the way, who brought the job to my attention," he says. The environment is right at the Lenkerhof, he can express himself freely, he gets on very well with his boss Stefan Lünse, "and as long as there's not a row at home, I'll stay here," says Henkel laughing. Two or three times a month he goes home to his wife, but for the time being he is focusing fully on his work.
Red mullet and eggplant
The convincing results of this focus are dishes such as a liquid-pickled and briefly fried red mullet, which Thies Henkel places on braised tuna cheeks and combines with an eggplant tapenade, some coconut, pickled eggplant, and an eggplant emulsion with basil oil. Fish dishes have a special significance for the chef, and here you can also see the convincing confidence with which he handles fine seafood. By placing the fish in a four-percent brine with a little vinegar, the red mullet, for example, loses its often somewhat musty taste, frying produces the crispy skin, after which the fish is cooked at a mild heat to exactly 41 degrees.
Powerful and hearty
Henkel's dishes reveal a chef who loves to eat himself. They are powerful and hearty, but at the same time elegant and very well made. The saddle of lamb with a crispy crust of herbs and tomatoes and two sauces, basil beurre blanc and lamb jus, is accompanied by a so-called "Kärntner raviolo" (Carinthian ravioli): It is filled with a ragù of tomatoes and braised lamb shoulder, then deep-fried, and comes out a bit rustic but packed with energy and flavor. "A lot of guests ask for a second raviolo," Henkel says laughing.
Relaxed and ambitious
In his very first year, the focused yet relaxed young chef has already started with 14 points in the GaultMillau, but he also makes it clear right away in a likeable, direct manner that he has greater aspirations: "I have set myself high goals, but I am convinced that I can achieve them." There is no reason to doubt that Thies Henkel will not achieve what he has set out to do.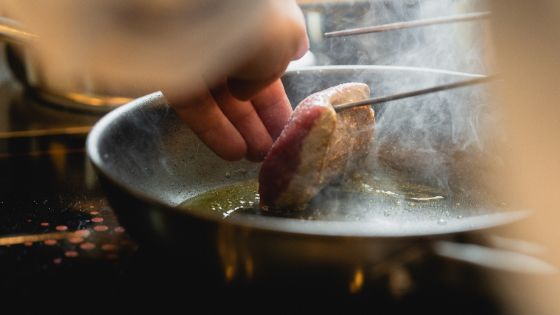 Craft as a basis
Henkel sears a piece of saddle of lamb.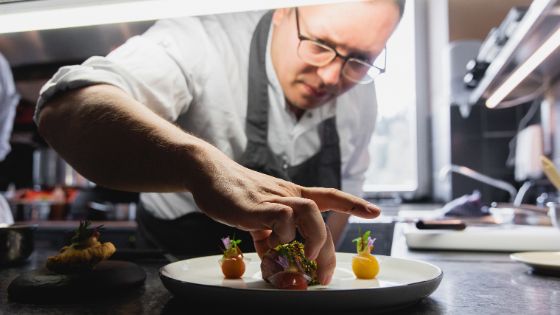 Well organized and determined
Thies Henkel in his small kitchen.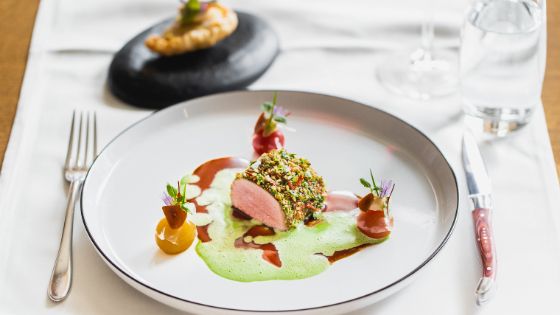 Energy and taste
Rack of lamb with tomatoes and Carinthian raviolo.