Ou Bien Encore
Colorful, creative, vegetarian – and vegan. The Geneva restaurant "Ou Bien Encore" is paradise for anyone who loves feasting and eating a healthy diet.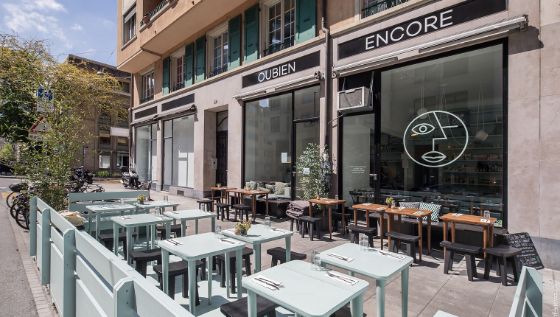 If you're looking for gourmet vegetarian cuisine in Geneva, you'll find it at "Ou Bien Encore". Fresh ingredients, prepared with love and served in generous portions – what more could you want? For ravenous guests, there are delicious burgers with fries and market vegetables, plus homemade vegan mayonnaise. Or do you fancy a change? Then the bowl with quinoa, hummus, falafel and mixed salad is just right for you. For a delicious sweet finish, try the cheesecake with berries or a classic tarte citron.
Healthy and conscious
The drinks are just as special as the food. The cold-pressed juices from fruits, vegetables, ginger and turmeric are not only delicious and refreshing, but also have a detoxifying effect. Because a healthy, conscious and personalized diet is at the heart of "Ou Bien Encore". The menus are vegetarian, vegan, gluten-free or lactose-free – and if you have other needs, just ask. The dishes are of course made with seasonal and regional ingredients to protect the environment and support local, organic producers.
More than just a restaurant
The ambiance is almost as important as the food and drink – and it is really something special at "Ou Bien Encore". Just like in an art gallery, the restaurant walls are adorned with paintings that talented artists always exhibit for a few weeks. In the establishment's food corner you will also find selected souvenirs, homemade muesli, exotic spices, plant-based dairy products and much more.