La Fourchette
Small, lovely and a real insider tip for cozy evenings in the city on the Rhine. "La Fourchette" combines fine dining in French bistro charm with an exquisite wine and deli selection to go. Located in the heart of the forever young and trendy Klybeck district.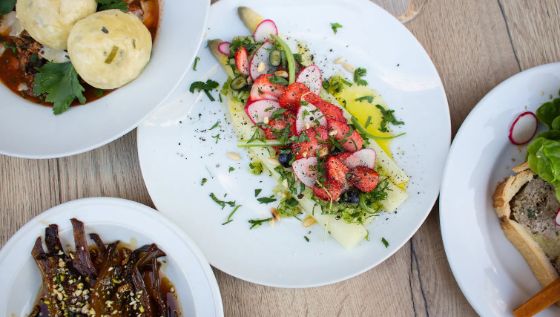 Boulevard de Montparnasse sends its regards
Crémant d'Alsace is ready to be served at any time and homemade delicacies are waiting on the small bistro menu to tickle your taste buds. Asparagus with strawberry vinaigrette, fennel cooked in honey or pâté en croûte with rhubarb – all dishes are seasonal, regional and cooked with love; classic "courses" are deliberately avoided. Instead, the dishes simply appear on the table and can be freely shared and combined as the mood takes you.
Shopping on Saturdays, brunch on Sundays
Co-founder Laetitia cooks with passion for guests during the week and prepares all kinds of specialties for the weekend at the same time. Because every Saturday from 10 a.m. to 4 p.m. the "Gäbelimärt" market is held at "La Fourchette" where you can buy Laetitia's homemade delicacies as well as wine, bread and much more. On Sunday, the week ends with a long brunch – one of the best in Basel. You simply must try it.