ClubGolf
Carefully manicured greens, old forests and babbling brooks, with an imposing Alpine panorama as backdrop – few things are as important as the beauty of nature for a unique golfing experience. Enter an idyllic world with "ClubGolf" and hit the ball into the vast greens on the most beautiful Swiss courses.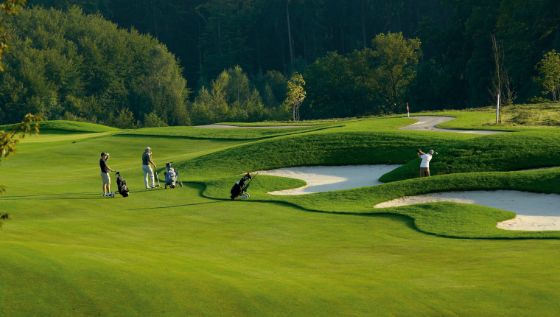 "ClubGolf's" golf courses are something special – around 4,000 members can confirm that. Five 18-hole championship courses and other practice facilities are located in spectacular scenery on courses in central Switzerland and in the Zurich and Basel regions – secluded yet easily accessible. Take advantage of the shops and training on offer, indulge in the restaurants and book the event venues for special occasions.
Golf courses
If you love mountains and lakes, the largest golf resort in Switzerland is perfect for you. Golf Sempach is located in the heart of Switzerland and offers spectacular golf on two 18-hole championship courses. Switzerland's largest golf resort with its impressive alpine panorama is also one of the most renowned golf clubs in Switzerland.
You can tee off on historic grass at Golf Kyburg. The renowned golf architect Kurt Rossknecht created a challenging 18-hole championship course on the noble Kyburgers' former horse pastures. Surrounded by old forest and streams, you are still just 20 minutes away from Zurich city center.
Golf Saint Apollinaire is perhaps the only course that is even more central. Two 18-hole championship courses and a 9-hole executive course, also works by Rossknecht, can be reached in five minutes from EuroAirport Basel. Harmoniously integrated into the former monastery complex and the wooded surroundings, the clubhouse nevertheless adds a modern touch. Golf in the same place where the Cistercian monks once planted their orchards in the 12th century.
Dining and events
After a day out in the fresh air, nothing beats a bit of relaxation and indulgence in an exclusive setting. You should therefore pay a visit to the exquisite restaurants at the "ClubGolf" Sempach, Kyburg and Saint Apollinaire courses. Whether it's stylish dining, a light menu at lunchtime or refreshments with a view of nature, you'll be indulged with every trick in the "ClubGolf" resorts' gastronomy book. All creations are made out of regional ingredients fresh from the market.
You will particularly benefit from the exquisite cuisine when you hold a special event with "ClubGolf", offering you a unique and festive setting for unforgettable dream weddings above Lake Sempach, seminars in the greater Zurich area or events near Basel.
Shop, academy and tournaments
Functionality meets style. The "ClubGolf" shops at the golf clubs have everything you need for the courses. Equip yourself with new balls before the game or browse through the collections of top golf labels at the end of a beautiful day. The golf professionals will be happy to advise you.
Professionals are also at your disposal at the Golf Academies. Superbly trained PGA golf professionals teach theory and practice – be it the basics for beginners or a tailor-made private training session for advanced players who want to refine their technique.
The "ClubGolf" courses are definitely the right place to find your A-game, as Golf Sempach has been the venue for the European Challenge Tour event for ten years, which has been hosted by Golf Saint Apollinaire since 2021.