Winter sports with Switzerland Tourism
7,000 kilometers of ski slopes, wonderful cross-country skiing opportunities and hikes at snowy heights – with the Switzerland Tourism recommendations you will find the perfect winter experience in the mountains.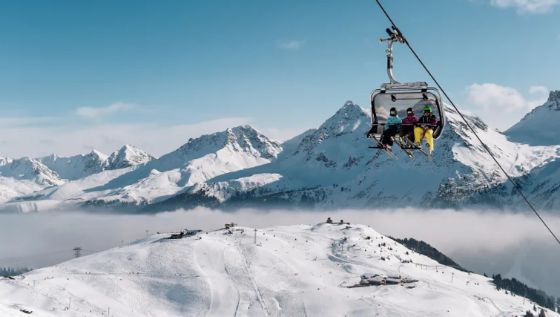 The highest, the smallest, the nearest
Anyone heading off into the Alps to ski is spoiled for choice: There are countless ski resorts from Graubünden to Bern and Valais, and each one is unique. Switzerland Tourism presents beautiful places that fit your needs exactly. If you are drawn to giddy heights, where the snow is meters high, visit one of the highest ski resorts in Europe: Unique experiences await you in Wengen, Zermatt, Saas-Fee, the "Pearl of the Alps", or Mürren. Or are you looking for peace and seclusion? Then small winter resorts are just the thing for you. In Valais you will find the idyllic villages of Evolène, Zinal and La Fouly. Bosco Gurin (Ticino) and Haslital (Bern) are also perfect for a relaxing weekend. And if you just want to go to a nearby ski resort for a few hours? Switzerland Tourism recommends Flumserberg for winter sports enthusiasts from Zurich, Chur and St. Gallen, Grindelwald for snow fanatics from Bern, and Saint-Cergues for everyone from the Geneva region.
Snow tours
Do you like admiring the snow-covered mountain scenery as you swish down the slope? With Switzerland Tourism you have the opportunity to experience nature up closer. Get to know the best freerides and ski tours, climb up a mountainside and enjoy the well-earned descent through untouched powder snow. There are chilled 2.5-hour tours – for example on the Rotefluespitz – that are ideal for first experiences. And if you are looking for a bigger challenge: The tour on the Col de Bréona takes about 5 hours, but rewards you with a wonderful view and stunning silence.
Safety is of course paramount on any snow tour. So make sure you obtain information from Alpen-Club SAC, SLF and SwitzerlandMobility.
Your Swiss ski schools
Has it perhaps been a few winters since you ventured onto the slopes? Do you wonder if you can still ski at all or if you have forgotten everything? Then a refresher course may be worth your while. Professional ski instructors are available to unlock your potential skills again at all major ski resorts in Switzerland.
And if you've never stood on skis before? "It's never too late," knows ski instructor Alexandra Thalmann. The former ski racer often teaches adults in Zermatt, for example Mathias, who decided to learn the ancient Swiss sport at the age of 27. Thanks to Alexandra's support, he now always goes along on the ski weekends with his colleagues. If you too would like to finally learn to ski, you will find the perfect ski school for you together with Switzerland Tourism.