POP of the Year 2023: Bar Lupo
"GaultMillau POP!", the trend guide for the Swiss restaurant scene, has chosen a new "POP of the Year" again this fall together with American Express: "Bar Lupo". Anyone stepping over their threshold is saying goodbye to Zurich and embarking on a culinary journey through Italy.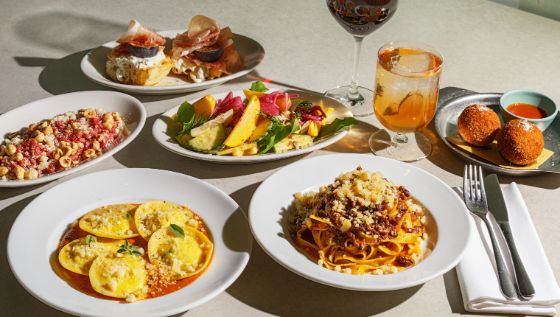 "GaultMillau POP!"
While GaultMillau awards points to the very best in haute cuisine, "GaultMillau POP!" is in charge of the trendiest insider tips from the Swiss restaurant scene. Original concepts, wholesome dining and exotic specialties are sought after. And if the dishes wow you, make you nostalgic or broaden your horizons, "GaultMillau POP!" is not far away. Once a year, one of the recommended dining establishments is given a very special honor: It is crowned the "POP!" king. A wolf is ascending the throne for 2023.
The Italian "Bar Lupo" at Kalkbreite makes you long for the Mediterranean with three kinds of culinary delights: special cocktail creations, first-class wines and Italian specialties.
From Sicily to Venice
Have you ever tried a "Bro'sé" or an "Ah Ja Klar"? With the "Bar Lupo" cocktails you can expect unique combinations such as gin and basil with parsley oil. Or how about vermouth, sake and strawberry? The wine cellar also impresses with variety, quality and a clear line: Enjoy La Pente, Lamoresca Bianco, Rosé Supernova or a Retromarcia from Tuscany.
Of course, you do not drink on an empty stomach at "Bar Lupo". The cuisine surprises with dishes that can easily compete with any Italian specialty restaurant. The tagliatelle al ragù and casarecce al pesto genovese taste as if an Italian nonna was standing at the stove. The antipasti, which are particularly suited to the flair of the bar, also inspire: There's freshly baked focaccia with figs and bacon, Sicilian arancini, salami, olives, cheese and vitello tonnato. And to round it off, a fluffy light tiramisù in a class of its own with a digestivo. Everything is no-frills, everything is first-class.
The three "POP!" kings
Behind the Italian delight is a trio with a wealth of expertise in restaurants: Armin Azadpour was at "Hunky Dory" in Frankfurt, Claudio Sacchi comes from "Bar Sacchi" and Patrick Schindler cooked at "Soi Thai" and "Action Burger". With their combined experience, a love of food and a flair for that certain something, they achieve the title "POP of the Year" 2023 with their "Bar Lupo".