Sazio
Osteria, enoteca and take-away: Angelo Fancello personally makes sure that you will feel delightfully full at "Sazio".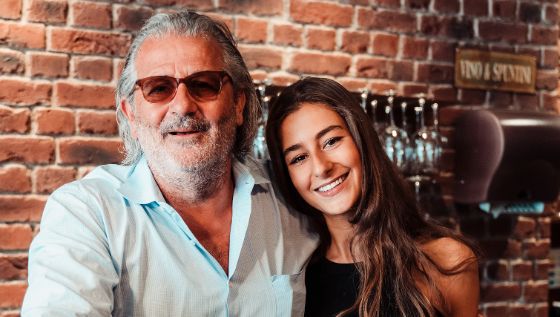 The wine barrel in the heart of the Seefeld district
Not far from the Kreuzstrasse tram stop in the Seefeld district, there is an old wine barrel on the sidewalk – this is where the "Sazio" is located. Owner Angelo Fancello has been running the osteria and enoteca for over ten years. The osteria used to be called "Vipasa", but the new name "Sazio" (Italian for full), according to Angelo, should also be understood as a promise to his guests. The ossobuco, the Italian veal shank with pasta and tomato sauce, is a true "Sazio" classic and is on the lunch menu every Wednesday. But for the colder months, Angelo and his kitchen team always offer solid soul food dishes like fresh pasta with salsiccia, cream and mushrooms. For those who like it lighter or even meatless, choose one of the vegetarian or vegan dishes such as the cavolfiore in padella, the cauliflower with tomatoes and olives, or the very classic pasta al pomodoro.
Multicultural family atmosphere
The hearty aroma of the traditional Italian recipes in the "Sazio" regularly brings back many a vacation memory. Indulging like at home, surrounded by family – that is Angelo's claim for a successful visit to his osteria. His own "restaurant family", the staff at "Sazio", comes from Italy, Cuba, Poland and the Dominican Republic. Angelo thinks that a colorful mix harmonizes best. And he himself? Angelo is Sardinian and Swiss, but above all he is a really good host, who cares and looks after his "family" and his clientele – sincerely and warmly. "A dopo!"