Magdi
"Trust the kitchen and let yourself be indulged," reads the menu at "Magdi." And that's exactly what you should do.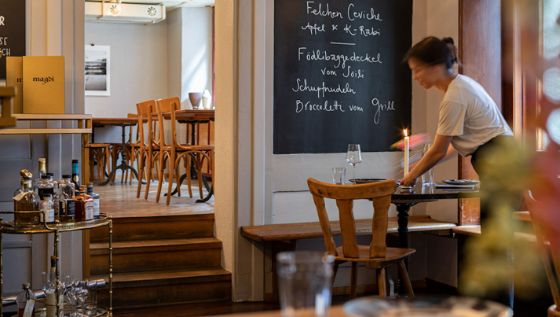 Indulgence in Lucerne
The traditional restaurant on Eisengasse in Lucerne was called St. Magdalena 200 years ago. Thanks to Martina Odermatt and Thomas Pollet, today the "Magdi" is a place for gourmets who love unique creations made from fresh, local ingredients. There's hand-cut beef tartare, crisp salads, poached char, whitefish in whey broth, braised dishes, cheese boards – and, of course, the daily specials. The meat comes exclusively from local producers. And if you are vegetarian or vegan? Just get in touch and be spoiled with the best that the Lucerne weekly market has to offer.
More than just a restaurant
But the "Magdi" does not only have the restaurant on the second floor, as the charcuterie opened on Eisengasse in 2022. The concept: handmade delicacies such as pâtés, terrines or blackberry spices to take away and drinks after work with tasty treats to enjoy in the picturesque old town. Of course, this also calls for a fine drop of wine – and you can get that at the "Magdi" bar.