Kronenhalle Bar
In keeping with Gustav Zumsteg's aspiration, the "Kronenhalle Bar" has been 'sans pareil' for almost 60 years. You experience a sophisticated drinking culture here.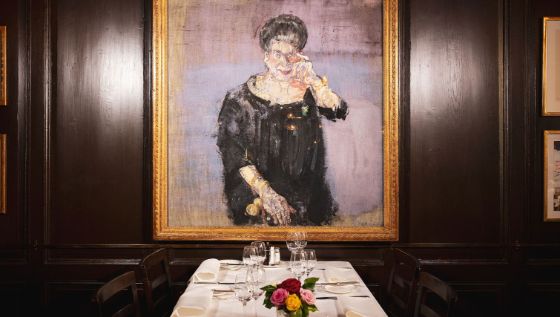 The right mix
Tradition and innovation in balance: The "Kronenhalle Bar" relies on this in its architecture, its furnishings and, of course, its drinks. Zurich architect and designer Robert Haussmann created a unique atmosphere with mahogany and seats upholstered in green leather; the lights, which disperse an atmospheric dim light, were designed by Giacometti. And the 'pièce de résistance' – the bar team's unique drinks – complete the experience.
Gourmet journey
With each sip, you embark on a journey around the world: We head to Scotland with single malt whisky from the Isle of Islay, the Highlands or the Lowland. The whiskeys from Japan, Taiwan and, of course, Ireland are also a treat for connoisseurs. A heavy cognac or Armagnac will take you to France, the grappas to Italy. And you stay closer to home with a fruit brandy. Sherries, ports and seasonal drinks are accompanied by tender tartare on buttered toast, saumon fumé or avocado à la vinaigrette. Enjoy the nostalgic bar culture.