HYG - Weggis
An aperitif after work. A lovely dinner. Enjoying a coffee in peace and quiet. Or a fresh take-away menu. "HYG" will spoil you exactly the way you want.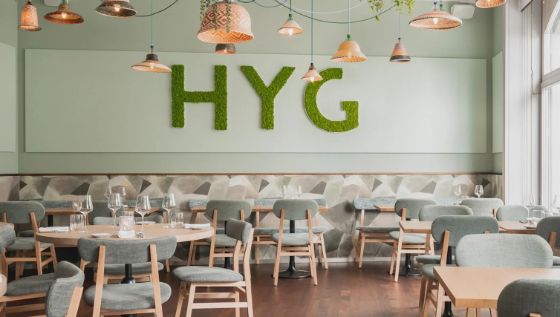 "Hygge"
Comfortable, warm, safe coziness: The Danish word "hygge" has many meanings. And all of them suit "HYG", Valentina Denz's restaurant. In the comfortable armchairs you will easily lose all sense of time when you go for a coffee with friends. You can enjoy refreshing cocktails and the best wines from around the world in a relaxed atmosphere at the bar. The restaurant's sommelier, Madeleine Löhner, will be happy to advise on the selection. For light snacks there are marinated olives, sourdough bread with hummus or a delicious platter of cold meats and cheeses.
Simply good
In the kitchen, Chef Luca Zarrelli and his team impress with a great mix of traditional and unusual dishes. The menu includes classics like beef tartare, roasted halibut and Breton oysters. The familiar and the new merge seamlessly in ossobuco of venison veal shank or vitello garnello. And the three-course menu is really tasty and substantial: Enjoy crisp salad, a juicy LUMA beef burger with fries and coleslaw, and to top it off, a slice of the homemade carrot cake. Another drink at the bar and everything is "hygge".