Frohsinn
When Ivo Adam became a world champion chef 20 years ago, he probably never dreamed that he would one day open a restaurant with an integrated gift boutique.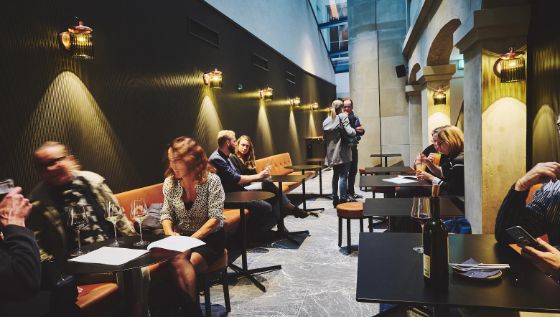 The "Frohsinn" in Bern is just that: on the one hand a pretty restaurant with open mini-kitchen and wood-burning stove, on the other hand a beautifully designed gift boutique. At the heart of the concept is the operators' desire to be sustainable themselves and to be able to pass this feeling on to guests and customers. In the online store and on site, potential customers will find, for example, moderately priced cooking and serving cutlery made of ash wood and peeling knives from the "Klötzli " cutlers.
Diversity as a concept

In the restaurant, the large wood-gas pizza oven is where all the action happens. Carrot soup, sabiche or gyoza – in culinary terms, the "Frohsinn" moves between southern Italy, Lebanon and Japan, in other words once around the northern hemisphere. An advantage in today's time, because as a result there really is always something for everyone. The more than 120 proudly touted wines on the menu allow for exotic pairings and invite you to discover something new.
Flexible upper floor
A DJ desk can also be set up or a beamer can be installed on request in the little "Sääli" room on the first floor of the "Frohsinn". Receptions, meetings or workshops – all kinds of private events can be organized here in a dignified old building setting with a calm atmosphere. The kitchen crew on the ground floor also provides the catering here, offering culinary delicacies just for you.