Bohemia Bar & Grill
The "Bohemia" offers real bistro cuisine with burgers and truffle fries on the ground floor of the "Märthof" boutique hotel in the heart of Basel.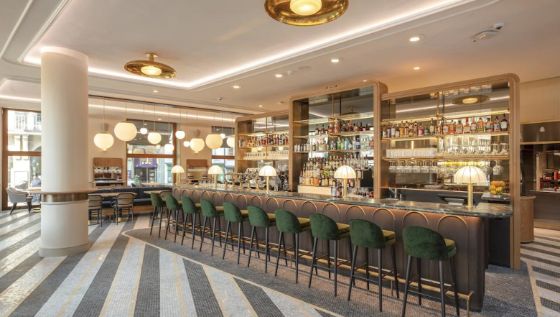 It's exactly what Basel was missing – a classic bistro-brasserie that pampers the hungry souls of Basel's urban population with T-bone steaks and shrimp cocktails 365 days a year from early in the morning until late in the evening.
Full of life and free
With the proverbial French charm of Paris' legendary "Café de Flore" in mind, the "Bohemia" website describes the excessive society of artists, musicians, writers and free spirits and evokes the lightness of being that inevitably resonates in the name "Bohemia". The mood in the Marktgasse, however, is rarely as free-spirited as it was in Paris, but there's no question that you can eat well here.
The charm of the present
The waiters offer a friendly and charming welcome, the smells of red meat barbecued Argentinian style over the wood fire grill waft from the kitchen and anyone who wants something a bit more low calorie and eco-friendly orders the fennel salad. With its innovative dining concept of a modern brasserie, the "Bohemia" in the international metropolis of gourmet delights on the Rhine is exactly in tune with the spirit of the times.
Exciting, open and dignified
The restaurant with integrated bar and boulevard terrace has something to suit every taste. By its own admission, the à la carte brunch at the weekend is almost legendary, with the ambitious "Märthof" crew making the dream of a latte macchiato with Egg Benedict possible for all Basel residents, even into the late afternoon. And those who prefer some privacy can indulge undisturbed in the function rooms that can be reserved separately and admire the lovingly illustrated walls – simply "la classe"!