Balthazar
Where nothing but the best will do – from the furnishings and beverage ingredients right down to the balsamic vinegar served on the venue's signature pizza.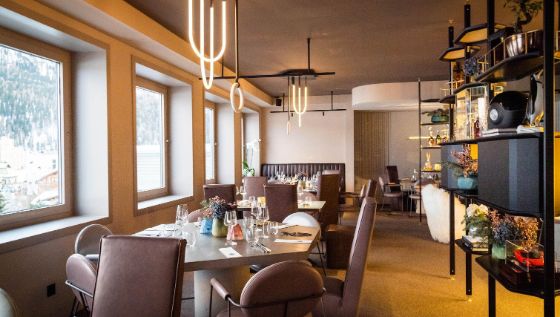 Ultimate indulgence
As in the Christmas story, "Balthazar" also only presents the very finest gifts to his guests in St. Moritz. Anyone taking a seat here can look forward to a true revelation of worldly pleasures. Exclusivity is all part of the image here.
Opus Magnum
A quick glance at the main courses gives you an idea of chef Davide Callegari's ambitions: Catalan lobster, marinated salmon fillet and, of course, Carbocalamaro®, Callegari's own creation and already a true "Balthazar"classic. Carbocalamaro is a perfectly seasoned mélange of tagliatelle with squid, egg yolk, parmesan and pecorino. The dishes are accompanied by first-class wines from the best regions of Italy, France and Switzerland. But also an impressive selection of rare bottles from the champagne house Dom Pérignon is available for guests.
From bubbles and monks
What few people know: "Balthazar" is not only a restaurant, cocktail bar and smokers lounge, but also an official Dom Pérignon flagship store. The French Champagne label, which owes its name to the legendary Benedictine monk Pierre Pérignon, co-inventor of modern sparkling wine at the time, supplies the "Balthazar" exclusively with real rarities. That the fascination for extravagant wines already resonates in the restaurant name "Balthazar" only fits better into the coherent overall concept. In fact, wine connoisseurs call the magnum bottle's big brother, which holds 12 liters, Balthazar.