Tracht, Rüschlikon
A magnificent view of Lake Zurich, delicious culinary delights, and a glass of wine that goes perfectly with the relaxing mood.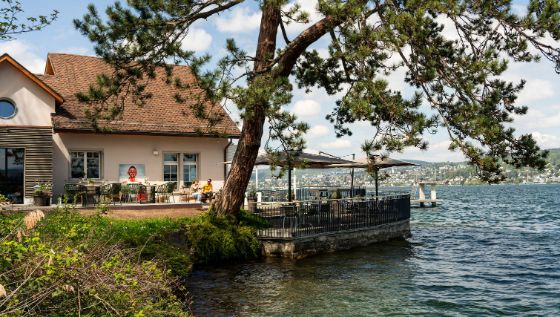 Nico's specialties
Beef tartare with mustard ice cream, maltagliati with veal bolognese, handmade nettle ravioli – the "Tracht" restaurant's menu promises pure pleasure. Ceviche from Lake of Zurich is of course a must when you are indulging in culinary delights on what is probably the most beautiful terrace on Lake Zurich. With their creative cuisine, Chef Nico and his team offer you sophisticated and traditional dishes made from the freshest ingredients every season. Accompany it with a Bordeaux or Pinot Noir from the considerable wine cellar to perfectly round off the lakeside experience.
Banquets and boats
The cozy "Bootstübli" or "Heerstube" with lake view are available for events with eight guest or more. Celebrate birthdays or corporate events in the most beautiful setting and with unique multi-course menus. Even the journey here is an exceptional experience: Take the scheduled boat, book your personal taxi boat to pick you up at Lago-Utoquai, or arrive by private boat. And if you prefer to have solid ground under your feet: Rüschlikon train station is just a five-minute walk away.