Matt & Elly Brewery & Kitchen, Basel
Taproom, brewery, kitchen, and restaurant in one – at "Matt & Elly Brewery & Kitchen" you will experience the perfect combination of in-house brewing and cooking.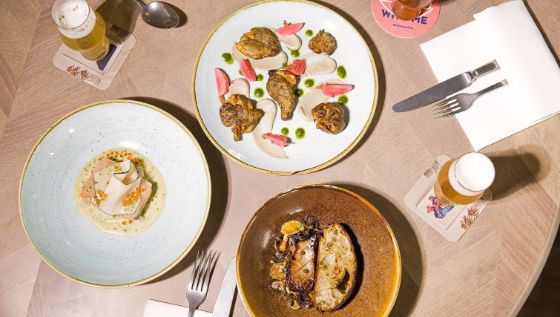 Love and passion
Jarin Huber, chef and operations manager, met Denise, graduate hotel manager and beer sommelier, in 2010. The two of them worked together first, then they became a couple as well. While traveling the world together, in 2017 they came up with the idea to live out their passion for culinary delights: home-brewed craft beer and creative, sustainable dishes to be enjoyed in a feel-good oasis.
Brewing and cooking
Guests experience the art of brewing firsthand at "Matt & Elly Brewery & Kitchen". The beers are produced on site in limited edition and can be tried during tastings. Whether it's classic varieties such as Pilsner and IPA or experimental creations with unusual ingredients – fresh, top quality and enjoyment are guaranteed. Meanwhile, the kitchen team creates refined dishes from seasonal and regional ingredients that will delight even the most demanding gourmets: vegetarian or with meat, classic or innovative. Highly recommended: the four-course surprise menu.