Con Gusto, Zürich
Green basil, white mozzarella, and red tomato sauce: The "Con Gusto" pizzas deserve to wear the national colors of Italy.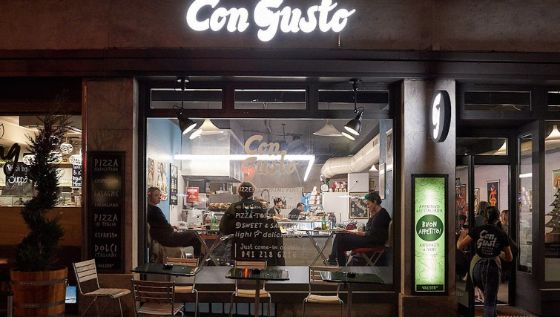 Royal takeaway
In the 19th century, pizzaioli often rushed through the streets of Naples with a freshly baked pizza. Their pizzas should be as hot as possible when they knocked on the palace gate. After all, they were delivering to Margherita, the Queen of Italy, herself. We enjoy what tasted so good to the aristocratic palate on the Mediterranean back then in the same way today in Zurich: According to "Züri isst", the "Con Gusto" pizzeria delivers the best Napoletana pizza in town. The purist masterpiece convinces with flavorful dough and the freshest ingredients, baked true to the original, briefly and hot. Fast delivery is of course included.
Feasting in the pizzeria
If you visit the "Con Gusto" on Schaffhauserplatz or at Schmiede Wiedikon, the Bufalina, Diavola, Siciliana and Marinara pizzas are of course even a bit hotter, lighter, and crispier. Enjoy the handmade antipasti, fresh salads, and a small but fine selection of typical Neapolitan pasta too. Add a tasty Italian beer and the pleasure is complete.