Brisket Southern BBQ & Bar
Texas meets Zurich. Experience the American art of barbecue in Zurich's industrial district with an atmospheric vibe.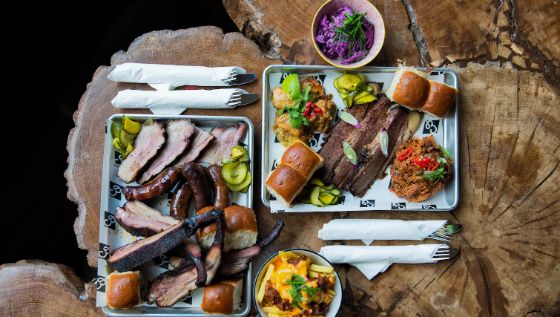 The feeling of the deep south in Zurich
It was a trip through the deep south of the US in Texas that inspired a group of friends to bring the art of the American barbecue to Switzerland. Back in Zurich, in the industrial district between the Schiffbau and the Prime Tower, they have turned their vision into a reality. The "pit masters" at the "Brisket Southern BBQ & Bar" have been slowly and gently smoking choice cuts of meat that melt in the mouth since 2015. Enjoy lunch or dinner with a rustic vibe in an urban setting.
Meat, wood, smoke
Whether it's beef, ribs or chicken – meat of the highest quality is cooked gently in the custom-made smoker called "Dolly", imported especially from Texas. With this exclusive method of smoking, different types of wood feed the fire, giving the grilled food an extraordinary flavor – from sweet and smooth to smoky and tart. Savor the juicy "pulled" or "shredded" meat together with typical American side dishes such as mac 'n' cheese or coleslaw. The Brisket Old Fashioned rounds off the barbecue experience. Enjoy!