Brasserie Lusi
Bask in the sun with a view of the Matterhorn. The Lusi Lounge is Zermatt's place to be.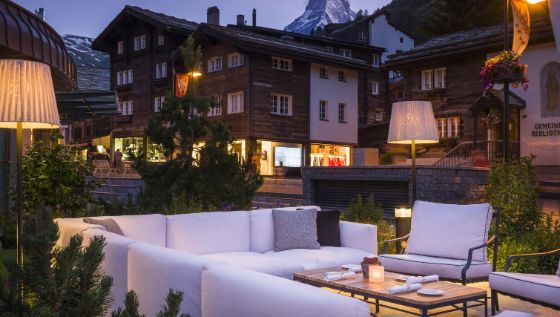 Alps, aperitifs and oysters
For a flute of champagne or a glass of sweet wine from the legendary Château d'Yquem – anyone looking for a place in the sun in Zermatt to enjoy an aperitif in style and with a view of the Matterhorn will find the place to be at the "Lusi Brasserie & Lounge" in a prime location in the heart of the village.
Gems from Burgundy and Bordeaux
White wine fans and red wine lovers alike get their money's worth here. From the amber-yellow Puligny-Montrachet Premier Cru "La Truffière", which offers a great deal of finesse with hints of passion fruit, peach and almond, to the dominant Château Marquis de Terme from Bordeaux with its full body and mild tannins, the "Lusi" wine list impresses with a hand-picked selection of absolute classics from France's best wine regions.
Admire the alpenglow on the terrace
By its own account, the "Lusi Lounge" is the perfect place for those who like things uncomplicated but stylish. Espresso and a croissant for breakfast, Loch Fyne oysters no. 2, perch from Raron and tapas with the local community's own sausage for lunch . And when the copper pans are pushed onto the stove in the brasserie kitchen in the evening and the Alps begin to glow, time stands still for a moment.