Christmas in the city
The Christmas season is just around the corner – and Switzerland Tourism has the best city tips for a heart-warming Advent for you.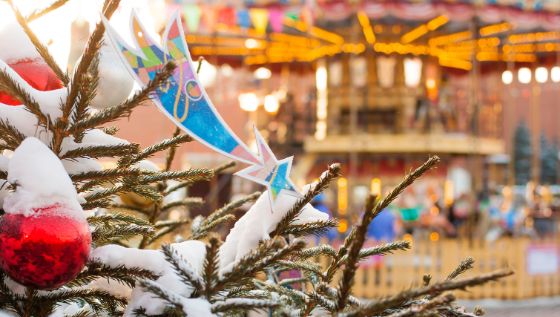 From roasted almonds to ice palaces
Advent concerts, ice rinks, fairy tales on the tram and night shopping – we are of course talking about Zurich during Advent. Immerse yourself in the Christmas hustle and bustle of Switzerland's largest city and enjoy sweet treats and steaming hot drinks. Stroll along the Freie Strasse in Basel and admire the festive lights – and just like every year, in the courtyard of the town hall you will find the big Christmas tree and Basel Wish Book which all visitors can fill with their private thoughts and hopes. The Swiss capital also has Christmas treats in store for locals and visitors from around the world: Bern enchants everyone in December with ice palaces, pop-ups and many other winter experiences. And of course there are Christmas markets to discover in all of these cities.
From Saint-Cergue to Serneus
Large, small, famous and secret Christmas markets can be found all over Switzerland. Cozy and lovingly decorated Christmas villages adorn Baden, Susten, Basel, St. Gallen, Lauterbrunnen and many other places. The markets in the historic towns of Saint-Ursanne and Bremgarten are particularly picturesque. Discover unique stalls on Pilatus mountain or at the Christmas village in Vevey and look forward to meeting lots of friendly old men with white beards and red velvet robes at the Aarau Santa Claus procession. Speaking of Santa Claus, in addition to several Christmas markets, Zurich will also host the Santa Claus Swim this year: Hundreds of hardy men and women dressed as Santa Claus will plunge into the Limmat river on December 3, 2023. If you also want to put your frost resistance to the test in costume, you may still be able to get hold of a last-minute ticket.