Small but lovely x 6
You can find them all over Switzerland, the "Shop Small" stores that add character and charm to neighborhoods and villages. We exclusively present six of these special little boutiques, shops, restaurants and stores between Geneva and Zurich.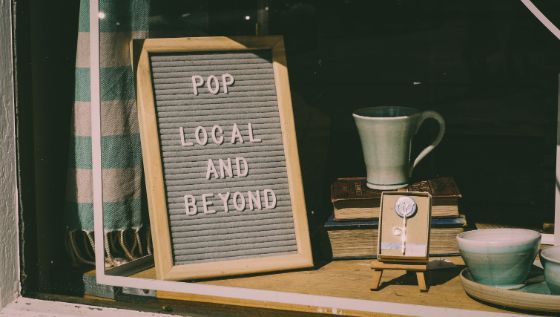 [Ge]Nuss-Boutique – Burgistein
Several hundred walnut trees thrive on the Affolter family's Lobsigen farm, and Rebecca and Michael produce creative delicacies out of their fruits together with friends and relatives. From dried sausage and nocino to oil and pasta – you will encounter the walnut in all its diversity at the "[Ge]Nuss-Boutique". Lobsigen black walnuts are a special treasure: The walnuts are harvested while they're green, processed and then stored for several months or even years until they turn black. Finally, black walnuts are grated like truffles to refine fondue, risotto, salads, pasta or meat dishes. A unique gift of nature.
Bluemelade bim Schloss – Aesch, Basel and Oberwil
Dive even deeper into the wonderful world of botany at "Bluemelade bim Schloss": Experience the splendor of colors and gently beguiling fragrances in unique combinations. The florists make bouquets, floral arrangements or houseplants with creativity and attention to detail to suit your personal taste. You will also find everything floral for events, weddings or funerals at the stores in Aesch, Basel and Oberwil. And if you love fresh flowers, the subscription including delivery service is perfect for you: You will regularly receive creations adapted to the seasons that will transform your home into an oasis of well-being.
Armando's Pane e Vino – Zurich and Baden
Feeling good outside your own four walls is the order of the day in Zurich and Baden – with bread, wine and a cozy ambiance. Of course, the crusty bread comes accompanied by a variety of tasty antipasti, from salami, prosciutto, delicious olives, grilled vegetables and a selection of the best Italian cheeses at "Armando's Pane e Vino". All the nuances of the delicious wines unfold on this culinary base: Chianti, Prosecco l'Anima, Barbera d'Alba and many other wines from Vergani are available at the bar. Of course, they will also be happy to mix you an Aperol Spritz, an Espresso Martini on Ice or any other drink to ring in the end of the day. Enjoy the Italian way of life.
Oskar & Luise – Solothurn
"Italy" and "pleasure" also unite in the "Misteli" property: The foundation walls of the house date back to Roman times and carry the "Oskar & Luise" restaurant today. The kitchen team celebrates the classics of Mediterranean cuisine with porcini risotto, brasato al Barolo or tiramisu. In addition, there are also one or two insider tips to discover: Pinsa Romana, for example, an oval sourdough base made with rice flour and soy and topped with cheese, raw ham, artichokes or chestnut honey. Of course, dishes from north of the Alps are also present: Pumpkin cream soup, "Mistkratzerli" roast chicken and sliced calf's liver (sautéed in butter and finished with fried onions and sage) show Swiss cuisine at its finest.
Märithüsli – Meiringen
Speaking of Helvetic traditions: Do you already have that classic combining sturdy fabric with a delicate floral pattern hanging in your wardrobe? "Märithüsli" produces beautiful Edelweiss shirts, blouses and even hoodies, and has in fact been doing so since 1978. Alpine romance in fabric is available to buy off the rack, custom-made and also by the meter if you want to live out your creativity. Also do not miss the large collection of peasant, blacksmith and lumberjack shirts: comfortable to wear and suitable in any situation. The fashion for children who love running around in the fresh air is highly recommended: The double thread cotton can be washed at 60 °C.
Berger de Faletans – Geneva
At the end of this voyage of discovery, something sweet is of course essential. In the Geneva chocolatier and confectioner "Berger de Faletans" tea room, small and large masterpieces await you: With truffle cakes, gateau, tarts, fruit tarts, currant buns and countless lovingly made chocolates, you will certainly get your money's worth. For a cozy afternoon tea there are also canapés, sandwiches, croissants, brioches and much more. The two couples – Pilar & Christophe and Arnaud & Mirjami – who run "Berger de Faletans" together, also offer customized concepts for catering or events.
Shop Small World
Six small Swiss stores – six inspirations for you. Would you like to dive even deeper into the world of Shop Small and discover more insider tips? We have an exclusive selection of 40 stores, studios and boutiques just waiting for your perfect shopping experience.