Seebad Utoquai in Zurich – catering on offer
Swimming, relaxing, and delicious dining: The restaurant at Seebad Utoquai lido indulges you with light summer dishes and refreshing drinks.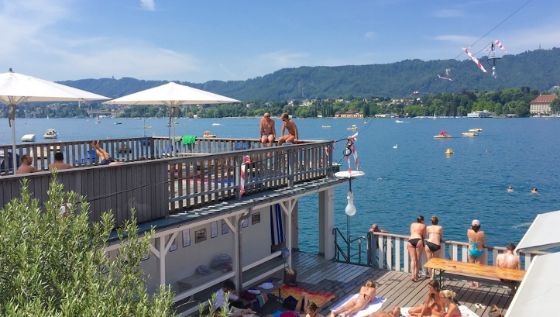 Summer treats
The lakeside restaurant offers a variety of delicacies from sunrise to sunset. Start your day with a fresh fruit bowl, a flaky croissant, and a cup of delicious coffee. If you are seeking refuge in the shade of the large parasols at lunchtime, there are crispy salads with roast beef, fish straight from the lake, quiche or falafel. For an after-work dip, indulge in the restaurant's Oriental mezze platters, the Uto burger or the unique curried perch sausage with potato salad. Accompany this with a cool beer or a fine glass of wine – and the summer experience is perfect.
Art, culture, and wellbeing
In addition to refreshing seawater and delicious dishes, art, culture, and wellbeing also await you at Seebad Utoquai: Experience the sunrise with a yoga lesson, put yourself in a relaxing trance with guided meditations, or discover new worlds with exciting readings. In the evenings, live music fans will also get their money's worth.