Parcandi
Convenient parking instead of laborious searching. The start-up "Parcandi" offers you a simple solution with its app.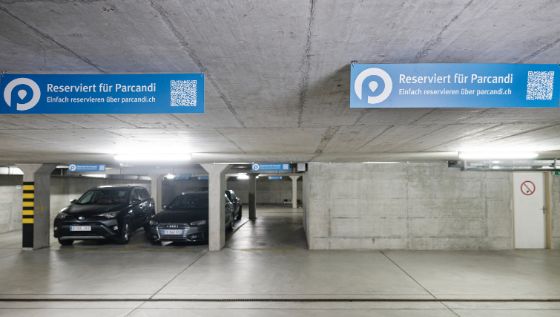 Pragmatic and efficient
Public parking spaces are scarce and expensive – especially in cities. At the same time, many parking spaces that are not intended for the public are underused. The start-up "Parcandi" presents a pragmatic and efficient solution for this: parking space sharing. Companies like Baloise, one of the initiators of the pilot project, provide parking spaces when they are not in use. You can find these nearby parking opportunities and reserve them quickly and easily using the "Parcandi" app. This not only saves you time and money, but also reduces the emissions from traffic searching for parking.
A question of organization
The idea was developed by Corsin Sulser, an employee at Baloise at the time. The internal project allowed employees to use and share empty parking spaces. Because the concept worked so well, the whole of Switzerland is benefiting from it today. As CEO of "Parcandi", Sulser and his eight employees are pursuing the goal of making efficient parking management accessible to as many companies and private individuals as possible. And parking space sharing is also becoming increasingly popular – thanks to a reliable IT infrastructure and clear organization.