NonStop Gym
Before breakfast, over lunch, after work – or in the middle of the night: With the "NonStop Gym" membership, you work out whenever you want.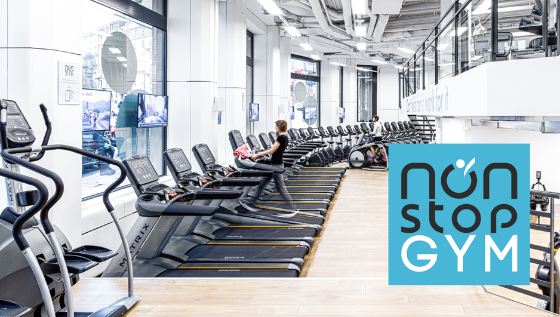 Flexible and affordable
Every now and then, your workout simply does not fit into your daily routine. That is why the "NonStop Gym" clubs are even open to you at night. Members use their fingerprint and a code to gain entry around the clock and work out whenever they want. From Geneva to Basel and Zurich to St. Gallen – find one of the 29 clubs near you. For uncomplicated workouts at home, you can also use the free "NSG Training" app: Over 2,000 workouts help you reach your fitness goals. Membership costs CHF 49, with an opening offer of just CHF 39 per month. It is also possible to have this reimbursed by your health insurance thanks to the QualiCert certification.
First-class equipment and training programs
Top quality with no frills: This is what "NonStop Gym" relies on when equipping its clubs. The cardio, strength and functional training equipment from the "Matrix" brand is precise and easy to use. As a member, it is best to take advantage of the free introductory lesson. Then get advice from a personal trainer or improve your fitness in group workouts. Before you sign up for a membership, the team welcomes you to a free trial training session.