"Kempinski" St. Moritz: A case for Brändli
Kempinski's next superstar? Reto Brändli (born in 1991!) is doing a great job at the "Cà d'Oro" in St. Moritz.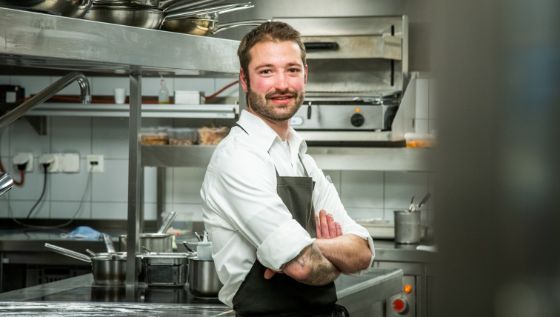 "Mega cool. I can cook what I want."
The "Grand Hotel des Bains Kempinski" is a breeding ground for talent. Executive Chef Matthias Schmidberger gives young chefs a lot of freedom. This season he is entrusting the signature restaurant "Cà d'Oro", one of the best addresses in the Engadine with 17 points, to Reto Brändli from Pfäffikon SZ, who is just 30 years old. This is paying off as there is strong applause for the winter menu. Brändli: "I'm allowed to 100 percent cook what I want. I write the menu, Chef Matthias looks over it, and then lets me get on with it. Mega cool." The controller also rarely knocks on the kitchen door: The shopping list only includes what is exceptionally good and then also quite expensive. The young chef is not measured by the food costs.
Röösli, Ranza, Violier & Caminada.
How do you become a chef at a grand hotel at such a young age? "With a lot of commitment. With a lot of hard work. With creativity. And of course: You have to be able to deliver too," says Reto Brändli. He is, partly because he learned from the best: Kurt Röösli, the old master at the Waldhaus Sils, taught him classic French cuisine. "I really didn't know what I wanted to learn, so I just got some hands-on experience at the Waldhaus. The chef was happy, I was allowed to stay and do my apprenticeship there." In Ticino, the man from Schwyz cooked for Dario Ranza and Rolf Fliegauf. And he also spent hours over a hot stove with superstars: An internship in Crissier, at that time still with Benoît Violier. 15 months with Andreas Caminada. Brändli: "Andreas Caminada, Tanja Grandits and Nenad Mlinarevic cooked at a polo gala dinner in St. Moritz. I helped out, and after dessert Andreas hired me for Schloss Schauenstein. That's what every young chef dreams of!" Brändli got stuck in to the work everywhere: "Once the pâtissier surprisingly quit, then another pâtissier broke a few ribs, and it was always: Reto can make the desserts now. It was a challenge, but fun."
The Tattoo generation.
Reto Brändli has been snowboarding since he was six years old, pretty wildly and on every day off. When the "Cà d'Oro" is open though, his board stays in the cellar. "Then I'm in the kitchen from early in the morning until late at night." Duck foie gras with green apple and tarragon ("the apple provides the kick"), skrei from the Lofoten Islands with razor clams, gambero rosso with pumpkin and kohlrabi – and everything from calves from Ennetbürgen: the back, tail, cheek and tongue! Brändli also takes a spin around the restaurant after service, chatting casually with guests who admire his cooking and, of course, his heavily tattooed forearm. Forearm? That's only half the truth: "My whole family is on my body, plus tattoos that remind me of Japan: koi fish and cherry blossoms," says Reto. He also reveals his dream: "To open a small restaurant someday, back home on Lake Zurich."
Kempinski's next superstar?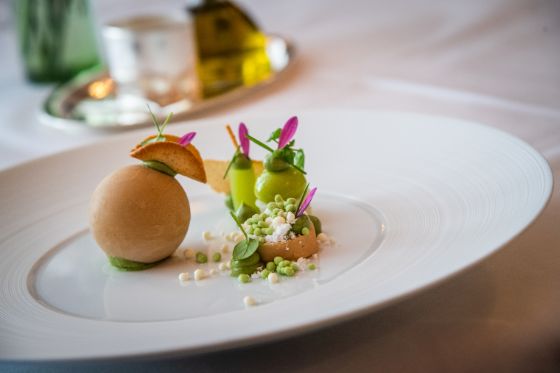 "Mega cool. I can cook what I want."
Skrei from the Lofoten Islands with razor clams, gambero rosso with pumpkin and kohlrabi.