Brunch right on the Reuss
The "Mill'Feuille" is one of the Lucerne locals' favorite restaurants. The reasons for this are as varied as they are simple: The tables in the outdoor area are right on the Reuss – whether it's at sunrise or sunset, the sun is always shining on your face.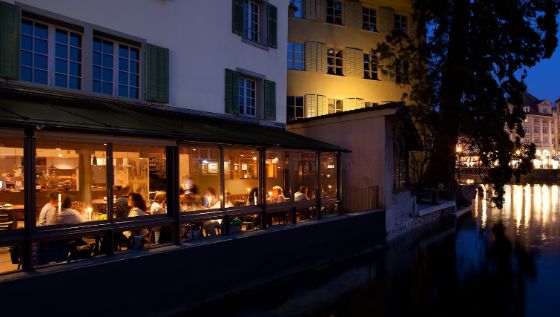 The lunch menu is straightforward and always includes a vegetarian option. In the evening, a five-course menu is served at a reasonable price in addition to à la carte dishes. The drinks menu is also impressive with homemade lemonades, cool drinks and a large selection of regional beers. On weekends, the "Mill'Feuille" offers brunch until 6.00 p.m. for late risers right on the Reuss.
"Mill'Feuille" stands for a thousand leaves and facets – and the name definitely says it all here. The establishment sees itself as a bar, restaurant and most importantly as a meeting place for everyone. Lucerne loves this bar – and we guarantee you will too.