Barbecue
People have been cooking food over fire for between one and two million years. Rather than the mammoth steaks of ancient times, though, these days we prefer to cook pork chops, chicken skewers and "beyond meat" burgers. Apart from that, however, not so much has changed. Here, we are pleased to present you with traditions, tips and interesting facts.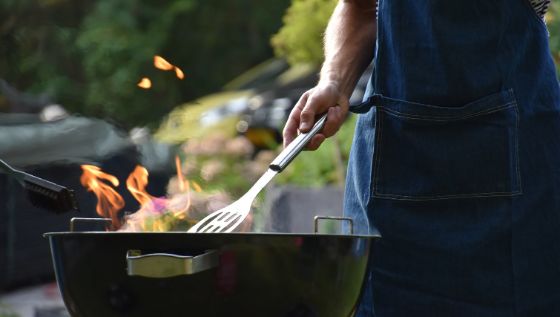 A baptism of fire for civilisation
The history of the barbecue is also the history of fire. On the one hand, a destructive force of nature that posed a threat to prehistoric mankind, when under control, however, something that offered protection against cold weather, darkness and predators. The fact that flames and embers make foods such as meat and cereal grains more durable, tastier and healthier was ultimately discovered by homo habilis. In keeping with their name, these "skilled people" also found that it was possible for certain varieties of wood and stone to be hardened in the embers. With stronger arrows and spears, hunting increased in popularity – and it was possible for the prey to be roasted in front of the cave in an almost civilized way. The only thing that was missing was the beer for the head chef!
Myths and tips
Speaking of beer: Legend has it that steaks taste even better if you douse them with beer directly over the glowing embers. As people find out in barbecue courses, however, beer is actually better for drinking than pouring over the leaping flames. The beer gives the meat very little flavor, and actually washes away the marinade. And the ash that sticks to the barbecued food as a result is neither tasty nor healthy. If you still want to enjoy both barbecued food and beer at the same time with every bite, it is best to opt for a beer marinade: garlic, olive oil, mustard, salt, herbs and beer – light beer with beef and lamb, darker beer with pork and chicken. Vegetables soaked in beer before barbecuing also go down particularly well.
Bread and fruit
There are almost no limits to your imagination in terms of what you can prepare on the barbecue – especially on a modern gas barbecue, which allows you to prepare your food as you would in the kitchen. With a pizza stone you can bake bread, tarte flambée and, of course, pizzas over a fire. The porous surface of the stone absorbs the moisture of the dough and therefore ensures a wonderfully crispy base. And for dessert, while the coals are still glowing, why not enjoy a piece of barbecued watermelon: Cut a juicy melon into thick slices, brush it with lemon juice and honey, and barbecue it for a minute on both sides. Best served with ice cream!
American and Korean BBQ
With original barbecue cooking, which originated in the USA, the actual cooking doesn't take place over the heat of the embers. Instead, the "pit master" (the person in charge of the cooking at the barbecue) uses the heat of the hot air from the embers to cook large pieces of food slowly and evenly: low and slow. The classic BBQ dish "pulled pork" (of which, by the way, there are also excellent vegan versions) is best enjoyed in a sandwich with coleslaw – and, of course, barbecue sauce. Spare ribs and beef brisket complete the holy trinity of the American barbecue.
A Korean barbecue, by contrast, is along similar lines to the Swiss raclette: Colorful ingredients are on the table – small bites of meat, kimchi, onions, radishes, pickled cucumbers as well as a variety of other "banchan" (side dishes). In the center is a small barbecue which is often built directly into the table. In this way, you can enjoy barbecued food to your heart's content. Bulgogi, a variation of the Korean barbecue, translates as "fire meat". Mouth-watering pieces of meat, usually beef, are marinated with soy sauce, ginger, onions, garlic and pears. Once cooked, they are rolled up in a lettuce leaf along with chili paste, coleslaw or other garnishes and eaten whole.