Up to the Rigi
15.4 kilometers of rails lie on the slopes of the Rigi, otherwise known as the "Queen of the Mountains". Admire the stunning scenery around Lake Lucerne and Lake Zug, the Alps and the expanse of the Mittelland region from modern and historic railroads.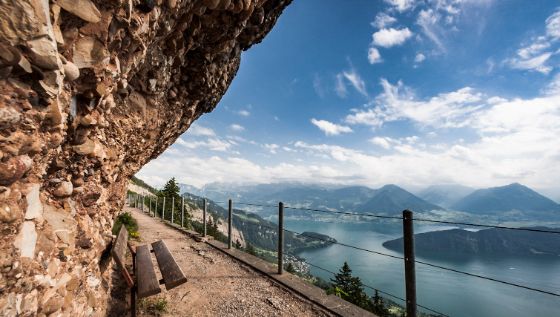 Riggenbach system
The year was 1871, when the first mountain railroad in Europe crawled up a slope. The steam locomotive covered a good 1,100 meters difference in altitude between Vitznau and Rigi Staffelhöhe. Three Swiss engineers made this possible: Olivier Zschokke, Ferdinand Naeff, and Niklaus Riggenbach. The latter not only helped build the first locomotives for the Spanish-Brötli-Bahn railroad, he also developed the special rack-railroad technology, which was used on the Rigi for the first time. The rack-railroads run smoothly and, above all, safely up the steep rails thanks to the "Riggenbach system". And have been doing so for 152 years.
Full steam ahead
Enveloped in white clouds, some of the historic and original Rigi railroads still travel up the slope and back through time today. The 100-year-old vintage vehicles have been lovingly restored and repaired, and passengers reach the summit of the Rigi at a proud 9 km/h. The Rigi Historic Foundation was set up to ensure that the steaming contemporary witnesses can also inspire future generations. With a donation, you will help finance the upcoming overhaul of locomotive 16 – and you will receive two day tickets for the Rigi mountain railways, a guided tour of the depot, an invitation to an exclusive patron event or a special ride on locomotive 7.
Walking, wellness, winter fairytale
Once at the top, 120 kilometers of hiking trails lie at your feet. Enjoy a relaxing ramble to the Känzeli, stroll along the Floral Trail or walk the Path of Nature Treasures. Fresh mountain air and a unique view await you whichever way you turn. To let your tired feet recover, treat yourself to a relaxing stay at the "Mineral Baths & Spa Rigi Kaltbad", which, contrary to its name "Kaltbad" (cold baths), has pleasantly warm baths. You will also find deep relaxation at "Chäserenholz Alpine wellness": In the whey bath delicious mountain cheese is served with the view of the mountains. The Rigi also has a lot to offer in winter: walks in powder snow, snowshoeing on the Scheidegg or a romantic ride in a horse-drawn sleigh. And the various cable cars that quickly and comfortably take you from the valley up the mountain are highly recommended in winter.
Get in the mood
Before you set off on your trip to the Rigi, it's best to take a look at the webcam. The live images from Rotstock, Kaltbad, Kulm, Scheidegg and Staffel show you how to equip yourself for your excursion. You also get a brief introduction to the beauty of the Alpine world that awaits you.