Chat Noir Interview
Vote for your favorite small store – that's what we asked you to do last fall. The winner you chose for 2023 is "Chat Noir". Learn about this cheerful family business in our exclusive report, and discover ideas for gifts, home accessories, games, art and much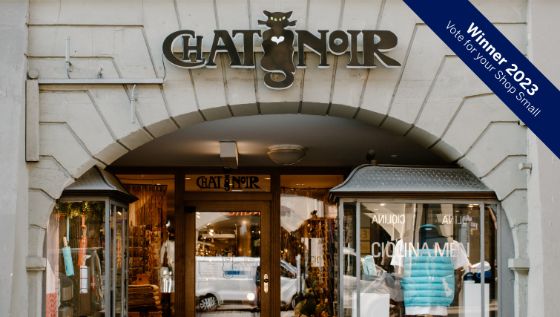 Second generation
Andreas Jordi and Martin Schnöller started selling unique posters, special postcards and art prints with custom frames more than 40 years ago. Today at "Chat Noir" you can also find small items of furniture, gifts, accessories and everything you generally need for a comfortable home. Kim Jordi, who runs "Chat Noir" together with her brother Björn in the second generation, welcomed us for the photo shoot and was available for an interview.
"Chat Noir" is the Shop Small business of 2023. First of all: Congratulations! Thank you very much! We were delighted that our customers voted for us.
What does "Shop Small" mean to you?
It means supporting small businesses with their independence. We believe it is very important for us to be able to maintain our individuality. I think our customers appreciate that, too.
How does "Chat Noir" stand out?
We are a small family business with a great team. Together, we are always on the lookout for new, original products with which we can delight, charm and surprise people.
And what are your hopes for the future?
Above all else, that our customers are satisfied, not to mention happy children in our second shop, "Le Petit Chat Noir".
Artful, practical and whimsical
"Chat Noir" is one of those stores where you are not looking for anything but find everything. Discover the artistic products in its varied range: For example, do you need an original gift? Then the Bob Ross mug is perfect – as soon as you pour a hot drink, a work of art appears as if by magic. Put together an individual bike kit, browse through special books or have a picture frame made to measure. The kitchen utensils are also practical and unique with solid cutlery, sustainable drinking bottles or "Egguins", a cute egg holder. Many of these products can also be found in the online store.