ClubGolf
Interested in exploring the fascinating world of golf? Or perhaps you'd like to deepen your golf skills and improve your handicap? We have tailor-made group and private courses for you. Our PGA Professionals will get you going in a target-oriented manner.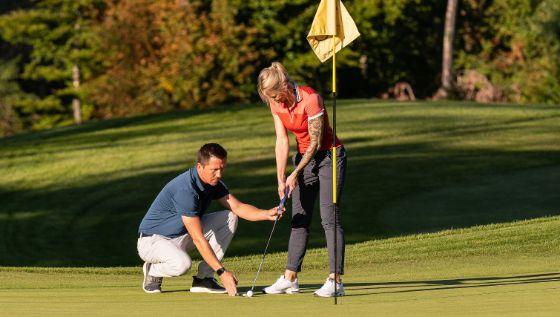 You will receive a free golf set worth CHF 398.-
Validity: 19.04. - 30.09.2023
Offer:
With the entry-level offer of CHF 780.- you receive a golf course of 18 lessons and additionally a complete golf set worth CHF 398.- with four irons, three woods, a putter and a golf bag.
The basic course (incl. balls, excl. range fee) includes:
Introduction to the world of golf
Learning the different types of stroke
Duration: 18 x 50 minutes
Golf Sempach, Golf Kyburg and Golf Saint Apollinaire offer a total of 5 x 18 hole championship courses in a scenic location. The golf courses belong to the ClubGolf association and, as members of the Leading Golf Courses of Switzerland, meet the highest quality standards.
Conditions:
This offer is only valid when paying with your American Express card. There are a limited number of places.
Registrations will be considered on a first-come, first-served basis. Offer cannot be combined with other offers.
Choose your golf resort and book the basic course at www.golf-academy.ch/einsteigerangebot. When registering, please note the promotional code: American-Express-Selects. The golf set will be given to you at the start of the course.
Choose your golf course and book the basic course via the Academy.
The golf bag will be handed over at the start of the course.
The terms and conditions of our partner apply.
Contact:
Phone: 0848 258 246
E-mail: info@clubgolf.ch