Giodi Vegetarian and Co.
The first genuinely almost entirely vegetarian restaurant – that's how "Giodi" describes itself and its cuisine, which specializes in vegetarian and vegan dishes, is just as original and uncomplicated.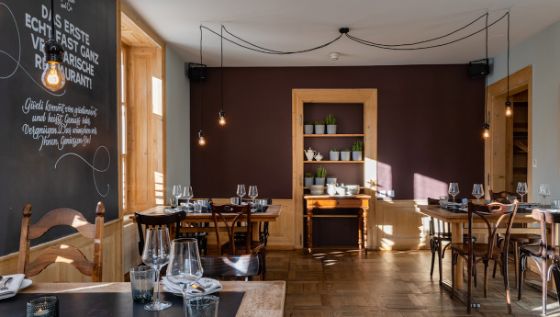 Food is pleasure. The fact that this principle comes first at "Giodi", is revealed as soon as you look at the menu. Do you like sophisticated food? Then try the ravioli with fondue filling, the sweet potato gnocchi or the portobello mushroom burger. And how about a rosehip port sorbet for dessert? Or would you prefer to stick to hummus, Waldorf salad and moussaka? Of course, there is also the Graubünden specialty Capuns with a delicious herb velouté. Add a piece of sourdough bread straight from the oven – and the pleasure is complete.
Vegetarian, flexitarian, regional
And if you still feel like a tender piece of meat or tasty fish? No problem. Just ask for the daily recommendation. It goes without saying that the same applies to meat and fish: Everything is fresh daily and from the region's trusted suppliers.
Purist, creative, down-to-earth
Kari Walker is responsible for the cooking. "A recipe is dead – as a cook, your job is to give it a soul," says the Welsh-born chef, who learned her art in the best kitchens in Europe and Asia. She has been creating her menus at "Giodi" since 2020. In doing so, she gives free rein to her creativity using all the ingredients that grow in Graubünden. One of her insider tips: parsnips. Kari Walker shines a spotlight on the root vegetable, which is overshadowed by potatoes and carrots in many kitchens. Because in addition to valuable vitamins, minerals and an antibacterial effect, the parsnip in Kari Walker's hands provides one thing in particular: a real treat for the palate.