Romantik Hotel Sternen
Cordiality and enjoyment in Biedermeier style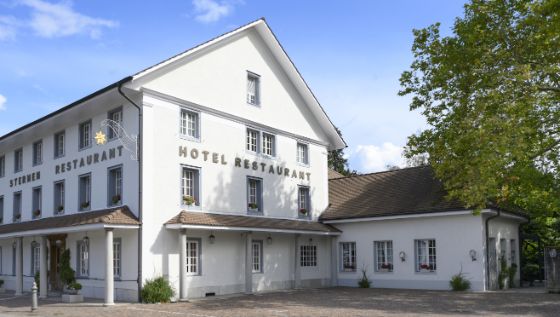 Special offer for American Express cardholders
Validity: 01.08. - 30.09.2022
Offer:
In the heart of the Swiss Mittelland lies the peaceful village of Kriegstetten. The stately Romantik Hotel Sternen with its cosy aura invites you to linger in tastefully furnished rooms. Chef Pierre Kaufeis cultivates the classic art of cooking and emphasises seasonal and natural cuisine. In addition to contemporary creations, the menu of the two restaurants "Gartenzimmer" and "Sternenstube" also features home-style classics.
Enjoy a free upgrade to the next higher available room category when paying with your American Express® Card.
Conditions:
Please indicate when booking that you wish to take advantage of the American Express offer.
The offer is valid on request and subject to availability when paying with your American Express Card. The offer cannot be combined with other offers and special rates.
The price does not include resort taxes.
The general terms and conditions of the partner apply.
Contact/Booking:
Phone +41 32 51 36 408
kriegstetten@romantikhotels.com
kriegstetten@romantikhotels.com